---
Do-It! is the premiere software program for calorie counting and keeping a food diary.

Do-It! makes managing your diet easy! Enter the foods you eat and Do-It! automatically calculates 55 different nutritional items.

Keep track of more than just calories, you also get fat grams, cholesterol, sodium, vitamins, minerals, amino acids, and more.

Do-It! is a set of Power Tools for Dieters. From calculating your body fat, to setting diet goals, to tracking recipes, these are the tools you need to succeed.

---
Do-It! software takes the
guess work out of nutrition.
New to Calorie Counting? Take a look at this free information page: Calorie Counting

You need accurate nutritional information to be successful. There are over 8,500 foods in our food database: Food Database
---
Easier meal prep
with our recipe database.
Our recipe file keeps getting bigger making Do-It! a more valued part of your active lifestyle. Check out what's new and add it to your digital kitchen.

---

It's simple: keep the pointer
in the green and you will
lose weight!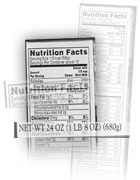 Get the facts on the foods
you are eating